Notice to Students of Monterey Bay Dog Training Club
We are disappointed to announce that our training classes will not begin before MAY, 2021 due to COVID. Select our "Classes" link at the top of this page to view our 2021 schedule. Stay well.
GIFTS FROM THE HEART donation partnered this year with BIRCHBARK FOUNDATION.
BirchBark Foundation provides financial support to veterinarians to help save pets' lives during medical emergencies when their owners are unable to fully afford the necessary critical care. This is the same goal as ours. Our donation will go further as part of a larger contribution. (Funding for "Gifts from the Heart" is, in part, supported by our annual "Santa Photos" which could not be held due to the pandemic. Thanks to our members who donated.)
Morris Animal Foundation
Our Morris Animal Foundation Fundraiser walk is postponed until a later date. We still plan to enjoy getting together and walking with our dogs for this worthy cause.
Who We Are
From 1966 to the present, Monterey Bay Dog Training Club, Inc, has provided knowledgeable, on-going professional obedience training to the dog owners of Santa Cruz, San Benito, and Monterey Counties. Our training facilities are located at the Santa Cruz County Fairgrounds in Watsonville and at the MidCountySeniorCenter on Bay Ave in Capitola. We take pride in being the very first Dog Training Club as well as the first AKC Member obedience club recognized in the area. We provide training at all levels…puppy, beginning 1 & 2, novice, open, and utility. Our program also offers all levels of Rally classes. The quality of our training is demonstrated by the number of handlers who return with their new dogs and the referrals we receive from former students.
Come, Sit, Stay with Monterey Bay !
Want to stay informed of our events and activities? Click here to be added to our email list. Can unsubscribe any time.
Click here for "A MESSAGE FROM THE DIRETOR OF MATCHES AND TRIALS"
DATES
VARIABLE SURFACE TRACKING TEST at CSUMB, APRIL 4, 2021. Canceled for 2021.
SCENT WORK TRIALS - MAY 1-2 CLICK HERE TO DOWNLOAD THE PREMIUM

AGILITY TRIAL. Grounds at Scotts Valley not Available. New location to be announced. JUNE 19 - 20, 2021.
OBEDIENCE AND RALLY TRIALS at St. Francis H.S. Watsonville, JULY 31, 2021.
Click RUFF NOTES to download the latest issue of the club's newsletter.
CLICK HERE, to view the "EVENT GALLERY" slide show. Many more images on our Facebook page.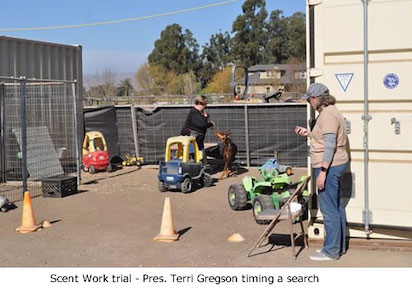 AKC Trials, Workshops, Certifications
We support the Dog Fancy by hosting Obedience Workshops, sponsoring Obedience/Rally. Scent Work, and Agility Trials, offering a Variable Surface Tracking Test, and providing Canine Good Citizen certification.
Community Involvement
We are a civic minded group pledging ourselves to support a variety of dog related activities with scholarships (UCDavis) or donations: Morris Animal Foundations, Canine Companions for Independence, Guide Dogs for the Blind, Disaster donations, and one close to our heart, "Gifts From The Heart" for pets in need of veterinary care. We provide dog demonstrations whenever asked and always look forward to joining the 4th of July parade in Aptos and enjoying our yearly participation at the Santa Cruz County Fair (pictured above).
Year Round Classes
Our Instructors come from a long history of actively being involved with dog training. Starting out by training and showing their own dogs for years, they moved into the next step … using those many years of experience to share their knowledge with the dog owners attending our classes. Our class fees for 8 week classes are the most reasonable around.